Devices that help children T1DM control their diabetes and lead fuller lives may also give them contact dermatitis, report the authors of a new study that calls for mandatory labeling of ingredients for allergy patch testing.
"A high share of patients showed positive reactions to isobornyl acrylate adhesive (IBOA) and/or their medical devices (insulin pumps or glucose devices)," the study authors write in Contact Dermatitis. "A third of patients showed positive reactions to benzoyl peroxide (BP)," used in adhesives.
"The presence of additional unidentified allergens cannot be excluded," they add. "Overall, our experience once more highlights the importance of having access to a full description of the chemical composition of diabetes devices and related medical devices to efficiently manage patients (including children) who experience adverse skin reactions from such devices."
Lead study author Catarina Alves da Silva, MD, of the Department of Dermatology and Venereology of Aarhus University Hospital, and her colleagues conducted a retrospective study of 15 referred patients younger than 18 years who had type 1 diabetes. The children were patch tested in the university's dermatology clinic between 2018 and 2020 in a study of skin reactions linked with diabetes devices.
Contact Dermatitis From Device-Related Allergens May Be Common
Many children in the study reacted to chemical compounds related to their devices.
Of the 15 patients, seven showed positive patch test reactions to IBOA, and five showed positive reactions to BP.
Ten children had positive patch test reactions to materials from glucose sensors and insulin pumps.
Three showed positive reactions to adhesive remover wipes.
Five reacted to plasters or cream containing lidocaine and prilocaine.
Marcia Hogeling, MD, a pediatric dermatologist at UCLA Health in Santa Monica, California, told Medscape Medical News that she expected acrylates to cause problems but was surprised that BP caused positive patch test reactions.
BP is known to be a strong irritant but a weak allergen, the authors write.
"It was important to identify the allergens in these devices. Hopefully, this information will be used by manufacturers to create safer products for patients," Hogeling, who was not involved in the study, said in an email.
Hogeling acknowledged that the small sample size is a weakness of the study, although she added that the findings may help providers select devices that do not contain their patients' contact allergens.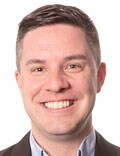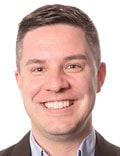 Dr Ryan McDonough
Ryan J. McDonough, DO, a pediatric endocrinologist and the co-director of the Diabetes Center at Children's Mercy Kansas City, said in an email that, despite the small sample size, the study "highlights important device-related experiences of those living with type 1 diabetes that clinicians often encounter.
"We often spend considerable time aiding patients and their families in finding ways to mitigate the reactions," he explained. "Having a broader understanding of these chemical compositions would help clinicians choose the right devices for their patients and prevent and treat these types of reactions."
McDonough, who also was not involved in the study, noted that the patients in the study were in Denmark, and they were able to easily transition between insulin pumps and glucose monitoring devices.
"In the US, it is often more challenging to switch between devices, due to insurance-related concerns.
"This study should serve as a call to action for continued improvements in the transparency of the components that make up the devices and adhesives, and it can provide an opportunity to develop additional interventions to prevent these reactions," he advised.
From www.medscape.com
Contact Dermatitis. Published online May 30, 2022. Abstract Article in full length pdf free
https://onlinelibrary.wiley.com/doi/epdf/10.1111/cod.14166
From the Discussion
... It is important to have access to product descriptions including their chemical composition in order to make appropriate patch testing, give advice to patients, and provide alternatives in case of allergies. Mandatory labelling of ingredients in medical devices is required before the products enter the market, preferably accelerated by legislations.
... Overall, our experience once more highlights the importance of having access to full description of the chemical composition of diabetes devices, and related medical devices, to efficiently manage patients who experience adverse skin reactions from such devices
Nyhetsinfo
www red DiabetologNytt